How to Become an Expert Witness
Expert Witnessing allows one to use his training, experience and education in a different way.  The work is intellectually stimulating and consists of helping lawyers, judges, and jurors understand the evidence in a legal dispute.  Experts are typically compensated at $250-$1,000/hr.
How to Get Started with SEAK
We often get asked, "how can I become an expert witness?"
Expert witnessing is a field where your reputation is all important. Your reputation will be based on the quality of your work product (reports, testimony, etc.) as well as how easy you are to deal with.  Experts who develop excellent reputations often see their practices grow exponentially.  On the other hand, experts who make avoidable mistakes can destroy their reputation and kill their practices.
Getting Started as an expert witness with SEAK – Recommended First Steps
If you think expert witnessing may be a good fit for you, we highly recommend taking (live in-person or stream) SEAK's signature "How to Start, Build, and Run a Successful Expert Witness" course.  This is SEAK's most popular expert witness training program. You will be ready to start accepting cases immediately upon completion of the course.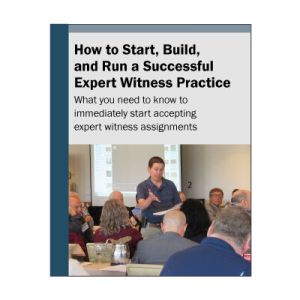 You will learn:
The role of expert witnesses in civil litigation,
What attorneys are looking for from their experts,
How to properly define your area(s) of expertise and practice areas,
How to draft a curriculum vitae appropriate for expert witness work,
How to get cases,
How to avoid ethical problems and maintain your integrity,
The essentials of expert witness report writing,
How to set your fee and collect it,
What to bill for and when,
How to draft a retention agreement to protect your rights,
How to form defensible opinions,
Techniques for maintaining your independence and objectivity,
How to exceed expectations,
How to build a tremendous reputation,
Ethics,
Expert witness risk management techniques, and
Much, much more.
The course is available both online (stream on-demand) and live in-person

To stream  How to Start, Build, and Run a Successful Expert Witness
For the live in-person course; How to Start, Build , and Run a Successful Expert Witness Practice
Here is a short video describing this highly-acclaimed live, in person training program:


We recommend this program even for experts who have been doing expert witness work for some time.  Numerous highly experienced experts have taken "How to Start, Build and Run a Successful Expert Witness Practice" Seminar and they universally have found it to be highly helpful.
---
We also recommend purchasing our Expert Witness Starter's Pack consisting of: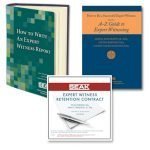 Progression of  Your Expert Witness Training –

Continuing Your Education with SEAK
SEAK's "How to Start, Build and Run an Expert Witness Practice" does not cover testifying skills (we don't have time in two days).  You will eventually be called to testify and must be able to do so at a high level, in order to be successful long term.
After completing "How to Start, Build and Run an Expert Witness Practice" we next recommend you take one or more of our signature two-day courses focusing on testifying at deposition and trial.  These training programs are hands-on programs like you have probably never experienced before. We feature learning via lecture, questions and answers, videos of experts testifying in real cases, and mock trial/depo demonstrations.  Testifying training courses are often offered in the two days immediately following "How to Start, Build and Run an Expert Witness Practice" and most experts sign up for both courses (for a total of four days of training).
For a list of upcoming expert witness training seminars.
Short videos discussing our highly acclaimed expert witness training programs
For those who are serious about developing their skills we also offer training programs on Expert Witness Report Writing and Business Development for expert witnesses as well as an annual national conference with presentations from judges, trial attorneys and thought leaders in the industry.
SEAK can help you develop your expert witness business.
SEAK's Expert Witness Directory is the #1 rated expert witness directory.  We even offer a 100% Money Back Guarantee on standard listings for new members. To place a listing in the SEAK Directory please click here.
In addition, our attorney consultants are also available to work with you individually to assist you in growing and improving your expert witness practice.
Questions?
Please feel free to call us at (508) 457-1111 and we would be delighted to answer any questions we can about how SEAK can help you succeed as an expert witness.  You can also direct your questions via email to mail@seak.com  We look forward to being of assistance.